June 26th, 2009 by dr.emi
Sebagai bentuk visi dan misi baru dr.emi menjadikan dremi.info sebagai website yang menyediakan tutorial web development dan design, dan tidak hanya memiliki isi tutorial design photoshop saja. Kembali dr.emi mencoba menggali inspirasi yang telah lama hampir pudar. Problem ini sempat bikin guwe ngeri, alias takut
wabis beberapa bulan ini waktu dihabiskan hanya untuk coding dan coding. Mudah – mudahan tutorial pertama di versi terbaru dremi.info ini menjadi inspirasi baru bagi banyak teman khusunya penulis sendiri … hihii… yiihaaaaa!!!
Sebelum mulai ada baiknya guwe bahas sedikit penjelasan tentang Adobe Illustrator. Illustrator merupakan pengolah grafis berbasis vector yang biasa digunakan oleh designer yang menginginkan hasil yang lebih detail dan tampak realistis. Bayak digunakan juga pada percetakan. Bahkan icon icon sekelas dunia pun menggunakan tool ini untuk mendapatkan hasil yang woke punya dah, kayak crystalxp.net
Woke buka Adobe Illustrator lu, dan bwat dokumen baru berukuran standar aja, kcuali kalo lu pengen jadiin wallpaper, yaa diatur atur aja dah ukuran desktop lu. Bisa widescreen atau biasa
Ambil Elipse Tool (L) dan bikin bidang lingkaran di tengah kanvas.
Nah lo, bisa kan ?
Wabis ntu lu kasi warna dah ntu lingkeran, make ijo tua kek, biru tua kek, atau apa aja dah. Nyang pnting rada tua warnanye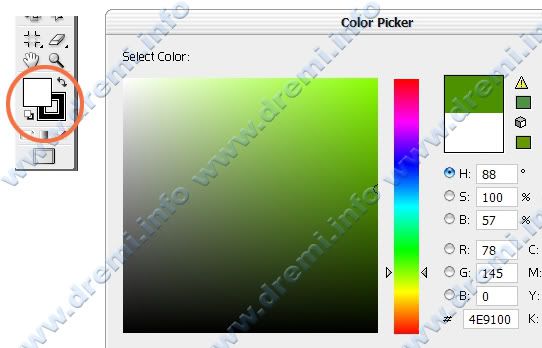 Dan jangan lupa hilangkan stroke nya, dengan klik pada ikon None pada Color Palet
Sekarang Copy path lingkeran tadi, pencet [CTRL+C] di kibod lu, tros pastenya make [CTRL+F] maksudnya biar hasil paste nya berada di depan objek path sebelumnya (dalam bahasa Lomboknya Paste in Front) hehehe
Wabis ntu lu kcilin dah make Selection Tool (V), lebih kecil dari sebelumna
Letakkan di bagian bawah path lingkeran sebelumna, tros ganti warna na make nyang lbih muda ..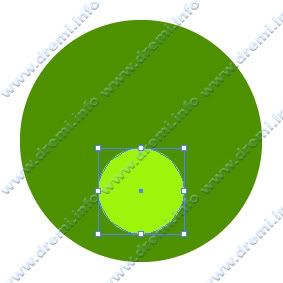 Wuiiidiiihhhh, bntar lagi jadi dah punya lu
Nah lu, sekarang ambil Blend Tool na
Dengan Blend Tool, klik pada ujung atas path lingkeran kecil, kemudian diikuti dengan mengklik ujung atas path yang gedenya. Jadi berurutan gitu bro………. Ni tujuannya bwat mbikin objek yang saling bertautan warnanya….
Teknik Blend ini bisa juga diterapkan dengan cara, klik kedua objek path (lingkeran gede ama nyang kcil) tros pencet kombinasi di kibod lu [Ctrl+Alt+B] atow lwat menu ini ni: Object > Blend > Make
Ntar jadi kayak gini nih:
Sesuai judulna make shadow, sekarang kite bikin dah glassy shadow na, make elipse tool juga tapi kali ini warna bidang path na dikasi gradasi abu putih.
Pertama aktifin Gradient Tool na, tros bikin elipse tool na. Jangan lupa perhatikan arah gradasina, dari bawah ke atas.
Wabis ntu lu aktipin Window > Transparency dan ganti blend mode nya menjadi Screen, dengan opacity 75% atow secukupna.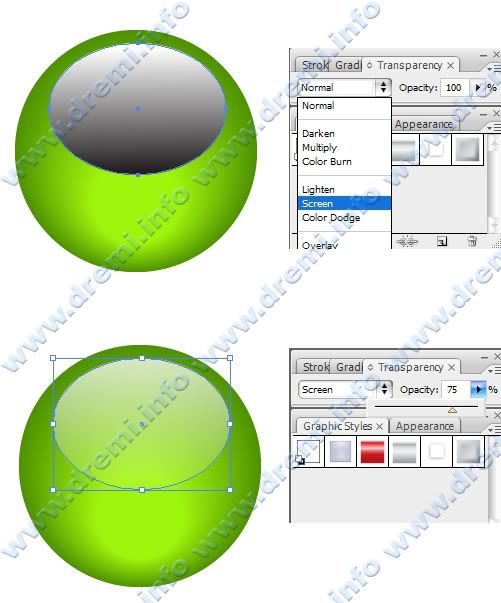 Terakhir bikin shadow bwat bayangannya, make Elipse Tool juga kok, dan warnana abu muda, trus kasi Effect > Blur > Gaussian Blur. Pakein blur na sekitar 20px.
Sampe sini, smua path bisa lu group jadi satu. Nah ni hasil akhirna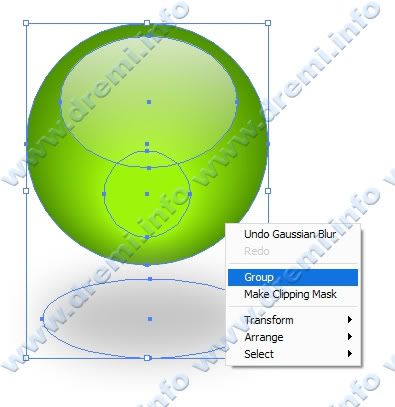 Lu bisa duplikat group na make [CTRL+C] ma [CTRL+V], dan atur posisi objekna biar enak diliat.
Kalo mawu ganti gradasi, tinggal double click aja (double click dilakukan 2X, sampe muncul path bola gede ama kcil dowang). Ntar bakalan muncul canvas baru tempet ngedit gradasina.
Nah disono, lu bisa edit di palet warna na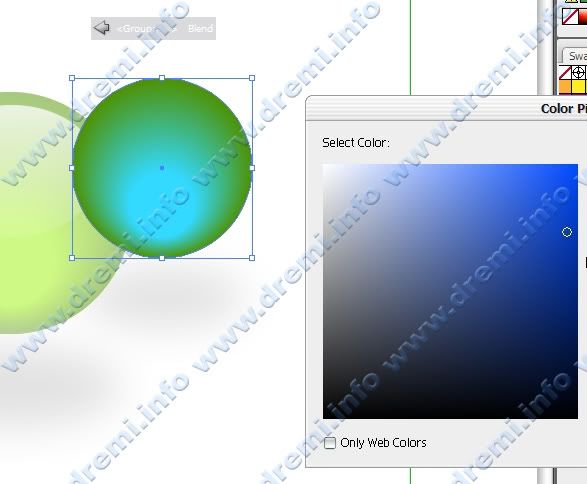 Lu bisa bikin kayak gini, atow berkreasi dengan posisi bola nyang beda beda …
Woke !!! selamat berkreasi ……
Share on Facebook
Popularity: 5% [?]
Hello my fox! Glad to see you today!
If you love my tutorial, please chose any action from the left button.
SEO Articles & Newsletters